"Insightful, inspiring and thought provoking!"
"I thought it was very powerfull!"
"Totally amazing work  – blown away by it all!"
About RP BROWNE
RP Browne is a painter, architect and designer. His instinctive artistic vision funnels the raw materials of reality into mind mystifying expressions. Firmly rooted in life experiences, his work, art and writings transcend the senses onto universal eye opening projections.
Rodrigo Pérez Browne was born in Buenos Aires, Argentina, in October the 30th 1970. Arts runs prominently in his family: both his grandfather and mother were painters.
Educated in Colegio de La Salle de Buenos Aires (1977-1983, 1984-1988). Enters Universidad de Buenos Aires, and Faculty of Architecture, Design and Urbanism (1989 and 1990-1994)
First acrylic paintings aged 21. Subsequent series and exhibitions:
Demented images (1993)
Sons of Sun and Sand (1995), inclusive of a sculpture for public competition
Terra Terror (1996)
Happy Meal Box, exhibited in CIPEA (1997-1998)
Works as architect in prominent practices of Argentina (1995-2003)
Tutor in Architectural Design at FADU – UBA (1995-2003)
Completion of series The Regime, and exhibition in the Shoá (Holocaust) Museum of Buenos Aires (December 2003).
Moves to Dublin, Ireland, in April 2004. Works as Senior Project Architect and Master planner in Henry J. Lyons and Partners Architects (2004-2011)
Shows series Spiralling in exhibition 5m2, The Back Loft, La Catedral Studios in Dublin (July 2008)
Founds RPBA (March 2012)
While retaining his Argentinean nationality, becomes an Irish Citizen (April 2012)
Completes The Worm, his first novel, started in 2006 (October 2012)
Starts APEX, in his new studio in Ranelagh, Dublin (2013-2015 )
RP BROWNE's APEX is exhibited at The Crypt Gallery, London (June 2015) and The Argentina General Consulate in New York (Dec-Jan 2015)
Artwork Series
Over the years RP Browne has worked on many series of paintings. Find out below!
APEX
"The making of this series was like a voyage of discovery into the primordial realm which coexists with our modern, slick urban world"

Demented Images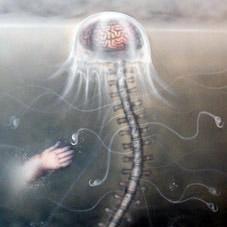 "Nowadays the concept of a soul is a little far from my beliefs…I'd rather fill in my Sunday mornings dreaming of electric sheep"